Corporate Investigation
Internal Audit Checklist and Template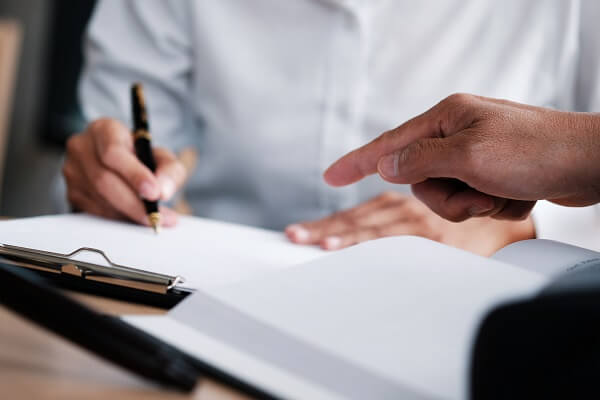 An internal audit checklist is an essential tool for auditors. It lists all of the things that the audit is supposed to check, as well as all of the ways that the audit's findings could benefit the company. Because internal auditing is, at its core, an effort in organization and measurement, having a good checklist is one of the most important things that an internal auditor can have.
While each checklist will be as unique as the particular audit it accompanies, there are some overarching templates that can be used to ensure that all of the general bases are covered.
Checklists Promote Uniformity Between Audits
One of the most important roles of an internal audit checklist is actually behind the scenes, hidden from view of the companies that are conducting the audit: The checklist ensures that each of the internal auditor's projects covers at least the same baseline of issues, ensuring a degree of uniformity between audits that gives each a credibility that it would not otherwise have.
This is not a minor benefit to using a good audit checklist.
Reliability is one of the most important aspects of an internal audit. Companies that conduct one should rest assured that they are going to at least cover the basics and that it will be as reputable as the last one that was performed. By using an internal audit checklist, an auditor can make this happen.
Audit Planning Should Be Reflected in the Checklist
While a checklist should ensure uniformity with prior or subsequent audits, that consistency should only cover the basic elements of the internal audit. Each internal audit is different – companies in different industries have widely diverging risks to manage or compliance goals to achieve, and even audits within the same industry or even the same company can have different focal points. The checklist used by the internal auditor should reflect that. Only the basic elements should always be the same.
For example just a few of the different industries that make heavy use of internal auditing are:
The risks that companies in each of these fields face are radically different. Even those in the same field can face drastically different risks and compliance needs based on their business practices. For example, companies that deal internationally will have to take compliance measures – and then audit them – for International Traffic in Arms Regulations (ITAR) and the Foreign Corrupt Practices Act (FCPA). Healthcare and pharmaceutical companies, on the other hand, can be the target of corporate healthcare fraud investigations and have to take care not to raise scrutiny on that front. Organizations of all sorts may find themselves in need of auditing internal processes related to:
Each of these types of companies and types of audits require their own focal points. The planning that goes into ascertaining the overall goal of the audit should be reflected in the checklist that ends up getting used by the auditors conducting the inspection.
Auditors Who Use Checklists Work Faster and Miss Fewer Issues
Another big benefit to using an internal audit checklist is that it keeps the audit process more focused, organized, and streamlined. Auditors who keep to their checklist do not get distracted by issues that fall outside the scope of the inspection. They move from one step to the next, progressing the audit along without hesitation or delay.
That organization also reduces the odds that the auditor will miss a key finding within the scope of the audit, enhancing the thoroughness of the process.
Internal Auditing Checklists Tend to Follow a Template
Generally, these internal auditing checklists tend to follow a basic template that covers the fundamental aspects of the audit process, plus additional elements that cover the more specific concerns that are to be addressed.
Some examples of elements in the template that many checklists are built from include:
How well performance processes further the organization's business plan and goals
Whether prior audits proposed corrective actions and whether those actions were implemented
Whether customer satisfaction is recorded and, if it is, how well the company responds to problems that it raises
How qualified employees and other personnel are for their job duties
Whether there are workplace hazards that could jeopardize occupational health and safety
How reliable quality control processes are
Whether prior records regarding quality control are kept
The goal of this general template is to begin to uncover important evidence related to the business' activities. As more information is gathered, new questions will present themselves that prove to be invaluable to the auditor and to the business that is being audited.
Compliance and Risk Management Auditing Consultants at Corporate Investigation Consulting
When done well, internal audits can reveal gaps in compliance protocols that have exposed the company to substantial legal liabilities, or can uncover inefficient systems and processes that are costing the company thousands of dollars every year. When done poorly, internal audits can miss important signs of wasted money and effort or can falsely lead the company to believe that it is in compliance with all relevant laws and regulations.
Companies should strongly consider hiring internal audit professionals or consultants to make sure their audit is done the right way.
The auditing consultants at Corporate Investigation Consulting have years of experience working with federal law enforcement agencies, including the Federal Bureau of Investigation (FBI) and the U.S. Department of Justice (DOJ), investigating signs of noncompliance and putting together cases of financial misconduct in industries from securities trading to healthcare fraud.
Contact them online or call them at (866) 352-9324 to get their input on your internal auditing needs.