Gamal Abdel-Hafiz
Former Supervisory Special Agent (FBI)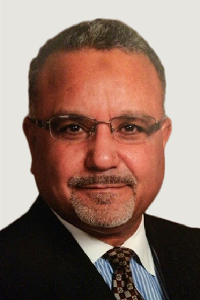 Practice Overview
Mr. Abdel-Hafiz is the first Muslim serving as a Special Agent in the FBI's history.  He has held positions at the FBI's Washington D.C. headquarters, the FBI Dallas Division, as the FBI Assistant Legal Attaché at the U.S. Embassy in Riyadh, Saudi Arabia, and as lead case agent in prosecutions across the nation.  Mr. Abdel-Hafiz assists his clients who are under investigation by federal law enforcement authorities involving national security, international financial crimes, and white-collar offenses.
Experience as a Special Agent at the FBI
Mr. Abdel-Hafiz spent over two decades working for the FBI investigating international terrorism, national security issues, and white-collar offenses—including white collar healthcare fraud investigations.  He has led cases of national and international significance including the Husam Somadi case, the Sour Gas investigation, the London subway attacks, the explosion of the Khobar Towers in Saudi Arabia, the East Africa American Embassies terrorist attacks in Tanzania, U.S.S. Cole attack in Yemen and the Khaled Aldowsary case.
Education, Specialized Training, Skills, and Areas of Expertise
Mr. Abdel-Hafiz graduated from the FBI Academy in Quantico, Virginia, the National Security and Decision-Making course at the U.S. Naval War College, and Al-Azhar University in Cairo, Egypt.  He has obtained the following certifications:
Certified FBI Interrogator of high value detainees,
Certified Expert Witness in Arabic and English translations with the U.S. Federal Courts,
Certified Human Intelligence Collector,
Certified FBI Undercover Special Agent,
Certified International Terrorism Witness with the U.S. Federal Courts,
Certified FBI Adjunct Faculty with emphasis on the Middle East and Islamic culture
Mr. Abdel-Hafiz speaks English and Arabic and is fluent in twelve Arabic language dialects.
Awards, Honors, and Accolades
Mr. Abdel-Hafiz has been recognized by federal agencies such as the Department of Justice, United States Attorney's Office, and the Federal Bureau of Investigation for his outstanding contributions to the public service.  A selected sample of the awards and recognitions Mr. Abdel-Hafiz has obtained include the following:
The FBI Director's award for contribution during the trial of Sheikh Omar Abdel-Rahman in New York City;
The United States Attorney's award for translation excellence during the trial of Sheikh Omar Abdel-Rahman;
Recognition letters from the Special Agents in Charge of the Dallas Division and the Buffalo Division in the Lackawanna Six Sleeper Cell case in New York;
Awards from foreign dignitaries such as King Hussain of Jordan, Prince Naif Bin Abdulaziz of Saudi Arabia, and the Jordanian Intelligence Service.
Need a corporate investigation consultant?
Don't delay. Learn about your rights.
Contact our team of
proven consultants today!